Sun, 14 August 2022
273: Our Homes Are Getting Smart
Brad Wills is Director: Strategic Customers & Programs at Schneider Electric. Based in Tennessee, he has three decades of experience with the organisation. We discuss the diverse range of products and services now offered by Schneider as well as the exciting opportunities for smart metering, microgrids, onsite battery storage and more.
---
Sat, 6 August 2022
272: A Passive House in Taupō
In 2007 when Kim Feldborg arrived in New Zealand he was surprised at how cold and inefficient the houses were, despite growing up in much colder European climates. Originally from Denmark, Kim has built houses in Greenland, Norway, Germany and England. He now enjoys life in a Certifed Passive House he built himself in Taupō.
---
Sun, 31 July 2022
271: Super Reno
Growing up in a typical kiwi home, it wasn't until he had lived in the UK for a bit that Damien McGill realised we don't need to be suffering through winter in cold, damp houses. Damien is an engineer and knows how things should be put together so they don't fall apart. But he's interested in more than that. In this chat, Simon Cator and I discuss how Damien got into the Superhome Movement. We also review his experience working on his own 'Super-Reno'.
---
Fri, 15 April 2022
269 The Style of Sustainability
Bert Sarkkinen has built a successful timber framing company around a solid philosophy grounded in the style and craftsmanship of a unique and timeless form of building. Bert appeared on the Home Style Green podcast back in episode 176. A couple of years on, Arrow Timber Framing has expanded into a larger facility and Bert has recently released the second edition of his book, The Art of Hybrid Timber Framing.
---
Sat, 26 March 2022
268: Regenerative Housing
Zola Rose has a vision for regenerative housing as a solution for improving communities and sustainability. She brings diverse and international experience to Aotearoa New Zealand where she now calls Nelson her home.
Real estate has long been used as an investment and a means of making a profit in New Zealand. Zola explains how this has tended to undermine the values that we should otherwise associate with where we live. Housing should protect, shelter and foster community, but we've tended towards the commoditisation of housing.
There are solutions that can help provide better housing and helping people implement these solutions is the basis for Zola's social enterprise.
https://www.commonground.net.nz
---
Sun, 13 March 2022
267 Architecturally Designed Modular Homes Built in New Zealand
Mariano Croce is an Argentine entrepreneur who relocated into Queenstown with his young family just before the first COVID lockdown in 2020. He has a background in prefabrication, having co-founded a modular building company in Argentina when he was 24. More than 15 years on, Mariano has created Modulo.nz to provide architecturally designed, high-performance, modular homes built in New Zealand.
---
Sun, 13 February 2022
266: It's Time to Speckel!
Darren O'Dea is a self-confessed building physics nerd. Along with co-founder David Carroll, he has helped to create Speckel, a platform for designing low carbon, healthier, durable and energy-efficient buildings. Having proven popular with architects and consultants in Australia, Speckel is now available in New Zealand. Find out more at https://www.speckel.io/
---
Sat, 4 December 2021
265: Smart Healthy Green
Sabine Schoenberg is co-founder of the Smart Healthy Green Living network, a collection of videos and streaming content on everything from tiny homes and carpentry to interior design and gardening. Through her network, Sabine is promoting the 'Do One Thing' campaign to help everyone take a step towards living a more sustainable life.
---
Sun, 28 November 2021
264 How to Control Air
My third conversation with Simon Cator in our series on the control layers of a well-performing building envelope. In this episode, we cover the why and how of airtightness.
---
Sun, 21 November 2021
263: The Many Benefits of Building with Hemp
Hemp is an extremely versatile material. It may have a complicated recent history due to medicinal and other uses, but the benefits of industrial hemp have been known for a long time. Jo Say, co-founder of the Hemp Building Association New Zealand explains why it's a great time to start rediscovering some of the many benefits of building with hemp.
---
Sat, 13 November 2021
262: Weathertight vs Waterproof
Following my previous chat with Simon Cator we continue our discussion about how to construct a good building envelope. This week we're focussing on keeping the weather out. We cover the benefits of a monolithic membrane instead of a microporous one, the importance of being resistant to water while maintaining permeability to vapour, and how to keep everything connected.
---
Sun, 24 October 2021
261 Casey Curtis
Casey Curtis shares tips on how and why to create airtight buildings, the benefits of mid-build open homes, and using collaborative design to create the right house on any given site.
---
Sat, 7 August 2021
259: Building Better Homes
Simon Cator is passionate about helping people to build better homes. Prior to becoming Regional Sales Manager for the Upper North Island at Pro Clima NZ, he worked for New Zealand's online architectural products library - EBOSS and also HRV before that.
In this introductory episode, I spoke with Simon about the diversity of his role at Pro Clima and how he talks with people throughout the whole building industry to help change the way we do things.
---
Sat, 3 July 2021
258 Matariki
Matariki is a festival that makes sense for New Zealand. It feels good to respect and learn from the wisdom of those who have inhabited this place for generations. It may have taken us 200 years, but we're creating our own vernacular; our own geographically appropriate culture of design.
---
Mon, 21 June 2021
257: What is Comfort?
Germán Molina trained as an engineer in Chile and has recently completed fascinating research posing the question 'what is comfort? at Victoria University in Wellington. Having come from what he describes as the 'warm side of engineering, he's long had an interest in energy efficiency. He didn't expect to be looking so much into human behavior. Germán has made some of the output of his research, freely available - The Atlas of Comfort. Find it at https://buildingsforpeople.org/
---
Sat, 12 June 2021
256 An update on New Zealand's First Passive House Co-Housing Project
Tim Ross featured on Home Style Green back in episode 191 to talk about getting starting on New Zealand's first Passive House co-housing project. I interviewed Tim again a year ago as we were kicking off the Passive House Podcast, and the Dunedin High Street Co-housing project was well underway.
---
Sun, 16 May 2021
The Impact of Interior Design
Georgia Ezra has a lot on the go. Based in Melbourne, she's the Founder and Director of her own interior design practice Studio Ezra. She also sources and supplies artisan tiles through Tiles of Ezra and bespoke homewares via AHW. Georgia calls herself a 'treasure hunter and market maven'. She has a passion for pushing the boundaries of modern design to create truly unique interior spaces for her clients.
---
Sun, 18 April 2021
How to get paid for giving sustainability advice
Danielle King moved into the sustainability field about fifteen years ago and has built up her consultancy Green Move Australia with a diverse range of services. We discuss some of the typical advice she provides to clients and Danielle shares some of her own advice for running a viable sustainability business.
---
Sun, 11 April 2021
The two key principles of home performance
Stuart Lee loves what he does, which is mostly building Passive House homes in Victoria, Australia. He was an early adopter of sustainable building and it was during a Master Builder Green Living event that he heard Clare Parry speak about Passive House. It all made a lot of sense and Stuart enrolled himself on a Passive House Tradesperson course. In this interview, he describes what makes a home really perform, and why he loves what he does.
---
Sat, 3 April 2021
249: How to build a healthy home for an ideal lifestyle
Mike Pickering is building an affordable but high quality, healthy and very energy efficient home for himself and his family on a lifestyle block in Napier. He's taken some learning from his experience building tiny homes and is sharing his project online. Check it out at https://ourlifeblock.co.nz
---
Sat, 27 March 2021
248: What does a Passive House have in common with an F-111?
Scott Stewart used to fly in high performance aircraft with the Royal Australian Air Force. Now he helps architects, designers and builders with the high performance details of Passive House homes.
---
Sat, 20 March 2021
247 Sanctum Homes
Hamish White is Director of Sanctum Homes, based in Victoria Australia. He's a registered Domestic Builder with a marketing degree! Since discovering Passive House, Hamish has been inspired to become a Passive House business. Architects, designers and other builders can be encouraged that there's a market out there and willing clients who want healthy, comfortable and energy efficient homes. I discuss with Hamish, how he got into the building industry and any advice he has for others interested in building better.
---
Sat, 6 March 2021
246: Hawea Flat Passivhaus
The Hawea Flat Passive House in the middle of the South Island is a very special home. It boasts a number of 'firsts' for New Zealand and the journey of its creation has arguably changed more than just the way Jonathan Holmes lives.
---
Sat, 27 February 2021
245 Your Surroundings are Everything
Michelle Rohrer-Lauer is an interior designer and business owner with nearly four decades of experience. She works with discerning clients out of her studio in Chicago, but her approach to sustainable design is applicable everywhere.
---
Sat, 13 February 2021
244: Best Techs Contracting
Jason Scheurer has always been a business owner and he's always been motived to learn. Today, he and his wife Penny own and operate Best Techs Contracting where they design, build and remodel homes. But not just any homes. I connected with Jason during an online Passive House event recently. In this interview, we discuss how he's gone from an inquisitive general contractor to a newly elected board member of Passive House California.
---
Sat, 6 February 2021
243 Get rid of Gas
Richard Keech lives in a zero-carbon home in Melbourne. After some time in the Royal Australian Air Force and then as a software engineering and consultant in the private sector, Richard now helps people to understand energy. Specifically, renewable energy and energy efficiency. We discuss why it's a good idea to get rid of gas and electrify your home.
---
Sat, 16 January 2021
242: Sustainable Furnishings Council
Susan Inglis has always been a conscious consumer. In 2007 she helped set up the Sustainable Furnishings Council to promote awareness of all the 'stuff' we bring into our buildings. From curtains to carpets, and fittings and furniture, the products we bring into our homes have a huge impact on the environment. The Sustainable Furnishings Council works with industry to help inspire designers and consumers to make better choices about all the products inside our buildings.
---
Sat, 19 December 2020
241: What's so Good about Wood?
John Stulen is Co-Founder and Communications Director for Innovatek. He's passionate about wood and through the WoodWorks brand, John helps the construction industry by promoting the many benefits of engineered wood.
---
Sun, 13 December 2020
240: Unearthing Passive House
Dean Hoggart found geology fascinating. He followed this passion hoping for a career in geothermal energy. After becoming a successful geotechnical engineer and drilling holes looking for oil and minerals, Dean realised he wasn't really doing what he'd like to be doing. So he took a leap and changed career. Today, he's a Certified Passive House Designer and is very happy to be applying science to the design of energy efficient homes.
---
Sun, 6 December 2020
239: How to Build the Right Home
Jennifer Crawford first appeared on Home Style Green when Our New Home Coach was just getting started. Six years on, she's back to discuss her journey and why she still believes strongly in helping people build the right home.
---
Sat, 28 November 2020
238: Building Passive Houses
WD Homes (Wayne Dyet Homes Ltd) is a family run residential construction company, established in January 2005, based in Dunedin.
'Certified Passive House' or 'Passivhaus' Construction has quickly become a speciality for WD Homes.
In this episode, we discuss how Wayne got started as a builder and what he enjoys about building Passive Houses.
---
Mon, 23 November 2020
Smart Exteriors
Steven Glaze is an expert in the exterior home remodelling industry and specialises in siding and gutter protection systems. He started in the business working as an assistant at his father's roofing company at the age of 16 and was estimating projects and managing crews by the time he was 18 years old. Today, Steve serves as Vice President of Sales for Smart Exteriors LLC, an award-winning home improvement company serving the greater Kansas City metro area. Steven works tirelessly to find the best exterior products and to educate homeowners on the best options for their goals and budgets. In fact, he recently wrote a homeowner's guide for siding that is now available on Amazon.
---
Sat, 14 November 2020
236: Sustainability Leadership
Sheryl Owen's purpose is to create a sustainable environment where everyone can thrive. The environment, says Sheryl, should not be a commodity available for a select few. In order for us to elevate, we must be aware of our impact on the environment and marginalised communities. In her day job and her numerous volunteer roles, Sheryl Owen helps companies find opportunities to link their environmental goals with how they can support their communities.
---
Sat, 7 November 2020
235: From Gaudi to Passive House
While on tour as a young US Marine, Josh Oqueli was stationed in Spain for 6 months. In Barcelona, he walked into the Basílica de la Sagrada Família. At the time, he didn't know about the architect and master builder, Antoni Gaudi, but the experience of entering this enchanted space inspired Josh to find out. Gaudi's skill as both a designer and a builder resonated with Josh and led him on the path to creating the Bonsai Design + Build.
---
Sun, 1 November 2020
The Business of Sustainable Building
Robert Sroufe, PhD. is a Professor of Sustainability, Operations and Supply Chain Management at Duquesne University. His practical experience comes from sustainable supply chain management. He was 'co-opted' into the green building movement by experts that he invited him to present to their students about the business opportunities associated with building green.
---
Sun, 25 October 2020
233: Using the gifts of the site to create a healthy, resilient home
Living Shelter Architects is a design firm led by Terry Phelan in the Northwest of Washington State. The focus of their work is to provide healthy, resilient homes by combining natural materials with the "gifts of the site".
---
Sat, 17 October 2020
Sustainable Opportunties
VCA Green provides green building consulting and commissioning. Their mission is to help clients achieve sustainability goals and long-term cost savings. I spoke with Principal Moe Fakih about where buildings sometimes go wrong and how companies like VCA Green can help with energy modelling, building rating, and commissioning.
---
Sat, 10 October 2020
231 Designing Light and Treading Lightly
How is overlighting of our internal environments, and overshading our cities, affecting our wellbeing? Antony DiMase is a thoughtful Architect based in Melbourne, Australia. We discuss the role that architecture can play in making better places for people and the planet.
---
Sat, 3 October 2020
230 How to Make Houses Perform
Enveloped provide all the products and systems you need to take an ordinary house and make it a high-performance home. Murray and his team help with the selection and installation of airtightness systems, insulation, ventilation, high-performance windows, heating and water heating systems for homes throughout New Zealand. "Remember, the Building Code is the minimum level of performance you are legally allowed to build to."
---
Sat, 26 September 2020
229: Be Significant
Through his work, Simon Croker is showing that designers can make a difference and be significant wherever they are. From big city firms to small country town practices, everyone can play an important role in creating sustainable, healthy buildings for the benefit of everyone.
---
Sat, 12 September 2020
228 The Shape of Sustainable Architecture
Architects shape the places where they work. Good Architects are themselves also shaped by their surrounding environment.
Living and working in Wanaka, Beth Chaney is very aware of being part of a place that most people only get to visit on holiday. This acknowledgment provides motivation for looking after the environment through her work as an architect.
In this episode, we discuss how Chaney and Norman incorporate environmental ratings along with PHPP energy modelling from Passive House to create sustainable architecture.
---
Sat, 5 September 2020
227: CarbonLite
CarbonLite is a producer of prefabricated Passive House and high-performance buildings, based in Victoria Australia.
Founder Burkhard Hansen explains some of the problems with typical Australian building practices, and how CarbonLite is using building science and experience to produce fit for purpose homes.
---
Sat, 29 August 2020
226 Idealings Architecture
Idealings Architecture is based in Fremantle, Western Australia and serves Perth and the Southwest of the state. Run by Timo and Najwa Bleeker, the aim of Idealings is to help future homeowners and organisations to create healthy, comfortable, energy-efficient and sustainable buildings.
---
Sun, 23 August 2020
Abodo Wood
After studying Japanese and international business, Daniel Gudsell's plan was to go to Japan and sell New Zealand produced milk, but he ended up selling wood in the South Pacific, an enterprise that led to the creation of Abode Wood.
---
Sat, 15 August 2020
224 Why are we so far behind?
Murray Robertson took a liking to technical drawing during intermediate school, which he carried on through college. After considering both industrial design and landscape design, he eventually settled on Architecture. He 'did his time' at a few practices and then found himself at McLaren Associates in Edinburgh where he was introduced to the environmental rating processes of BREEAM. Back in New Zealand, Murray spent over a decade at Stephenson & Turner before starting his own practice, Robertson Architecture Design in 2016.
---
Sun, 9 August 2020
223 Sustainable Architecture
In 2019 Anne Salmond was made a Distinguished Fellow of the New Zealand Institute of Architects, a high honour available to a maximum of only ten people at any one time. As a trailblazer throughout her career, Anne is a worthy recipient of this title. At one time Anne was told that she was running the largest architecture firm in the country that was directed by women. In our interview, Anne and I discuss her growing interest in sustainable architecture, passive solar and Passive House, Living Building Challenge and some of the exciting projects she's currently working on.
---
Sat, 1 August 2020
222 Third Little Pig
Simon Wansbrough is the Founder and Director of Third Little Pig, a custom home builder based in Christchurch. We discuss how Simon got into building in the first place, what building better homes means to him, and how he's been able to become more selective about the projects he takes on.
---
Sun, 5 July 2020
220 Oil Rigs to Passive Houses
Before Reece Beresford trained as a builder and started his own company, he did some time working on oil rigs. Now he's aspiring to build Certified Passive House for clients in Perth, Western Australia.
---
Sat, 27 June 2020
219 Blue Sky Windows
Viktoria Nikitina is Managing Director of Blue Sky Windows, a manufacturer of high quality, high performance uPVC windows based in Melbourne, Victoria.
With so many locally manufactured options now available, there are plenty of reasons why you should consider windows and doors like these for your next project.
---
Thu, 25 June 2020
218 A Sustainable ICF ECO-Block Home
Simon Cator of Pro Clima New Zealand recently caught up with Kirstie Brown at a sustainable house that Kirstie has built using ECO-Block Insulation Concrete Forms (ICF) in Tauranga.
Simon finds out about the advantages of using ECO-Blocks and how an airtight construction is already contributing to great performance.
This episode and accompanying article originally appeared on Eboss, https://www.eboss.co.nz/ebossnow/pro-clima-intelligent-air-barrier-tauranga-sustainable-home
---
Sun, 14 June 2020
217 High Performance Lessons from Luxury Homes
Browsing the photo gallery on Jeff Bogard's R.E.A Homes website, 'sustainability' is not likely the first word that comes to mind. Can large, luxury houses actually be sustainable? This is one of the topics I discussed with Jeff who's been providing high performance homes for discerning clients in Saint Louis for over fourteen years.
---
Wed, 10 June 2020
216 Why don't we know about thermal bridges down here?
I'm always interested in the perceptions of architects and builders who have been trained or have experienced living in Europe and then come to the Southern Hemisphere. Their reaction to typical houses in New Zealand and Australia usually involves a level of disbelief. A common sentiment is that they've never been colder, despite this being a milder climate.
---
Sat, 30 May 2020
215 Building Biology
Joachim Herrmann developed an interest in building biology while working as a teacher. As a trained biologist, he describes the science of life as "endlessly fascinating". We discuss the 25 principles of Building Biology and how they contribute to creating healthy places to live.
---
Sat, 23 May 2020
214 Energy Efficient Homes
Robert Whitehouse wants to build houses that work the way they should, and he's thinking about how to make them affordable for everyone.
---
Sat, 16 May 2020
What's so good about uPVC windows and doors?
The uPVC window market is relatively small in Australia right now, but it's growing fast. I caught up with Kathrin Sender, Managing Director at Integra Windows recently to find out what's so good about uPVC windows and doors.
---
Sun, 10 May 2020
212: Don't Build a Garden Shed!
Ian Chamberlain learnt his craft as a cabinet maker and joiner in the UK. Nearly 40 years on, he's now crafting beautiful and high performing homes in Taupo, New Zealand.
What are the most important things to ensure you get the comfortable, energy-efficient home you deserve and can afford?
More at https://homestylegreen.com/212
Brought to you by Endurobuilders and LABDesign.
Music attribution: Carefree by Kevin MacLeod Link: https://incompetech.filmmusic.io/song/3476-carefree License: http://creativecommons.org/licenses/by/4.0/
---
Sun, 3 May 2020

Guy Shaw, Energy Architecture
Guy Shaw of Energy Architecture originally trained in Wellington, New Zealand. But it was his experience working as an Architect in the UK that introduced him to more sustainable design and lead him to become a Certified Passive House Designer.
Upon returning to New Zealand in 2013 he set up his own practice, Energy Architecture. Since then he has focussed on Passive House design and has become an expert on working with Structural Insulated Panels (SIPs).
Theory and Practice
During his initial training, Guy thought New Zealand was pretty sustainable. He learnt a bit of building science, as required by most architects at the time, but it wasn't what we'd probably call building science today.
During his time working in England, Guy was more or less immersed in BREEAM and was then introduced to Passive House. This experience put New Zealand practice at the time, into perspective.
Designing and Modelling
Guy credits having some good mentors in the UK, as well as having some good projects to work on, for his knowledge of Passive House modelling. He was able to learn to model using the Passive House Planning Package (PHPP) while on the job.
He explains that designing and modelling go hand-in-hand. It's a smoother process to design with some key concepts right from the start, rather than being given a design and asked to model it.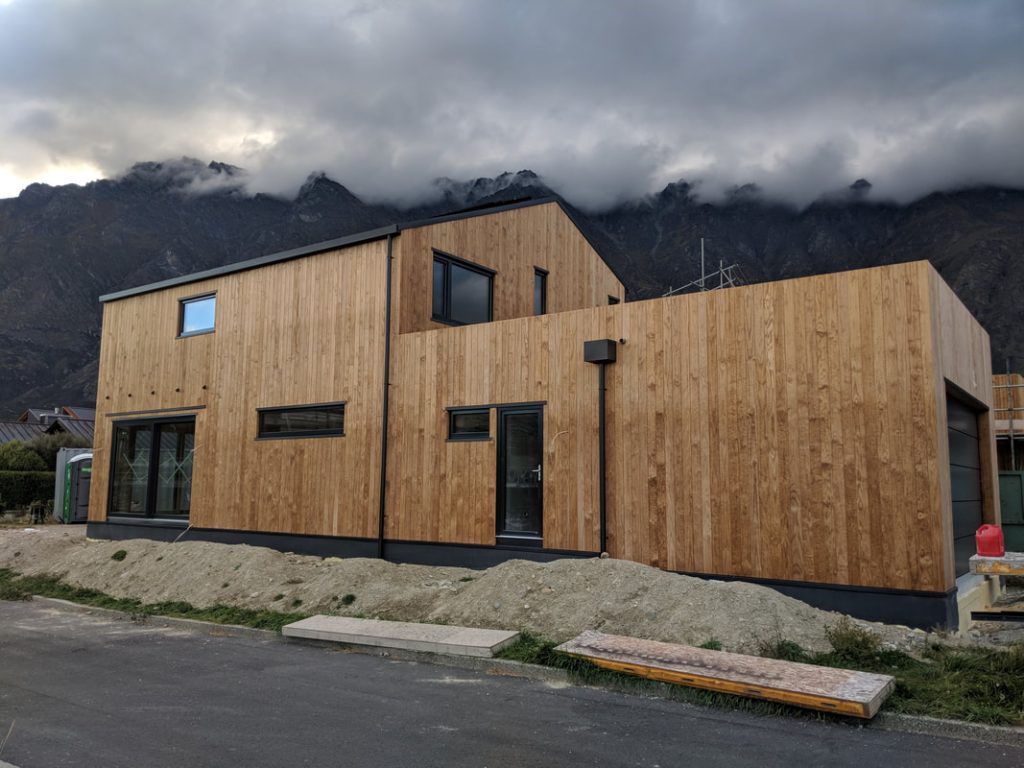 "Once you've been doing Passive House projects for a while, it becomes intuitive," says Guy, "... you understand the implications of various design decisions...". He still checks all his designs in PHPP, but Guy says that nowadays, he's really just double-checking the performance assumptions that he's made along the way.
[Tweet ""Once you've been doing Passive House projects for a while, it becomes intuitive." Guy Shaw, @EnergyArchNZ"]
Voice your Values
I asked Guy about how other designers can attract clients who want to go down the Passive House route, or something similar. With Energy Architecture, he's been very clear from the start about what he stands for. And he wasn't afraid to voice these values. If someone is looking for cheap and 'just-to-code', they're probably not going to seek out a practice like Energy Architecture.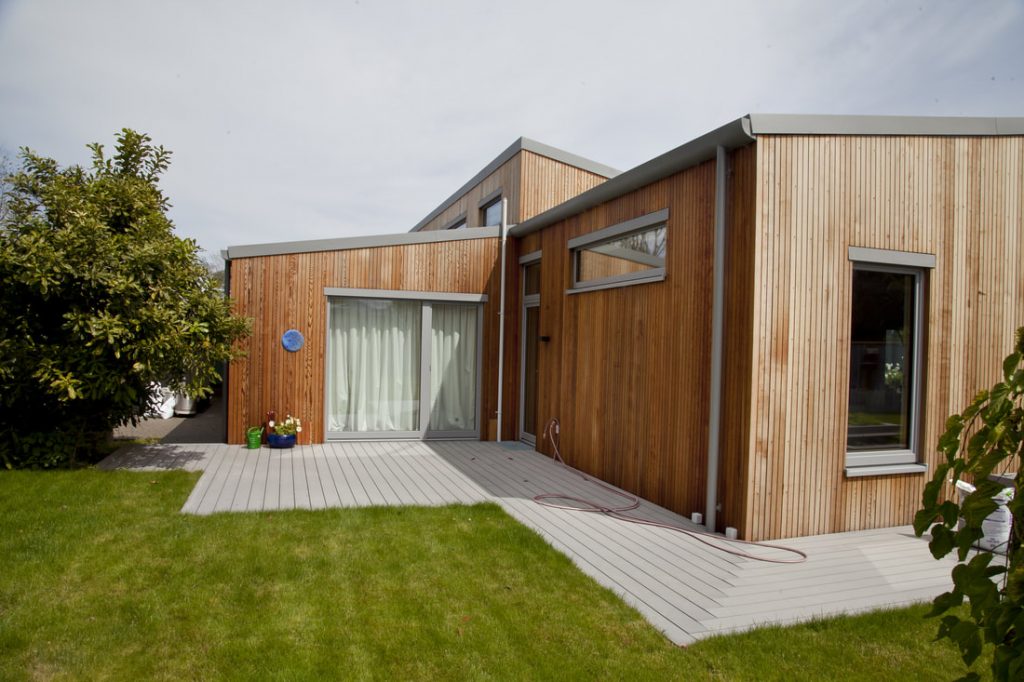 Guy has received positive feedback from being very clear about what he stands for. And it seems his clients tend to self-select. He's only had to turn away one job to date.
While he does acknowledge that it may be more challenging for an existing practice to change tack, Guy says that every client relationship starts by explaining what your values are.
Get Inspired
Energy Architecture is based in Wellington and specialises in Passive House design with leading expertise in designing for SIP construction. Check out Guy's stunning work on their website.
Category:
general
-- posted at: 5:20pm NZDT
---
Sat, 2 May 2020
211: Energy Architecture
Energy Architecture is based in Wellington and specialises in Passive House design with leading expertise in designing for SIP construction. Find out more, and contact Guy Shaw via their website.
---
Mon, 20 April 2020
210: How to Build a Stunning Sustainable Home
Enduro Builders is quickly becoming one of the leading builders of high performance and sustainable homes in Australia. I met up with Jackson while he was nearing completion of another stunning home in the Adelaide Hills during a trip in late 2019.
In this chat, we discussed how Jackson got into building in the first place and how Enduro Builders is helping to lead an important change in the Australian residential building market.
---
Sun, 12 April 2020
209: How to Live Well with Livewel Construction
Ben Ingledew has a background in teaching, but following the Canterbury Earthquakes in 2010 and 2011, he took a new path which eventually lead to Livewel Construction.
Livewel Construction focusses on energy-efficient, comfortable homes and renovations. Ben in Certified Passive House Tradesperson and a member of the Superhome Movement.
---
Sat, 4 April 2020
208: OMEGA Windows and Doors
Aluminium is stable, completely recyclable and relatively abundant, but it's also a great conductor of heat. It's the dominant choice of material for window and door frames in New Zealand, accounting for 90% of the market. But how can you make it a more sustainable choice? OMEGA Windows and Doors offers some good options.
Dyann Stewart learnt computer-aided design (CAD) while working as a receptionist for New Zealand sailor Digby Taylor. With this valuable skill, Dyann soon found herself working as a junior designer for Nulook. From Nulook, she worked briefly with Fletcher Aluminium as a Technical Advisor, and then on to Fairview where she eventually become Group Technical Manager.
She is now the Business Development Manager at OMEGA Windows and Doors where she's already helped the company achieve the significant accreditation of becoming the first Red List Free aluminium joinery supplier in New Zealand.
---
Sat, 28 March 2020
207: How Woman-Centric Home Design leads to Better Outcomes
Design Basics has as unique point of difference. They value and promote the input of women in the design process. I discuss with Executive Vice President Natalie Wendling, and Vice President of Business Development, Paul Foresman; the concept of 'Women-Centric Home Design' and how it can benefit everyone.
---
Sun, 22 March 2020
206: How to Save Time and Money on Green Certification
Green certification of building projects faces multiple challenges; from sourcing appropriate products, documenting and verifying materials, through to minimising, sorting and recording construction waste. Compiling all this information in a form that's useful for the certifying agency can be yet another big challenge. Through Green Badger, Tommy Linstroth's goals is to make sustainability in the built environment as easy as possible.
Green Badger is a cloud-based software platform that helps builders and contractors streamline and automate green building compliance. Simplifying these compliance processes allows builders and contractors to focus on building their building properly instead of chasing paperwork.
---
Sat, 5 October 2019
203: modhouse
John and Nikki decided to put all their energy and attention in the home they've created. John gave up the idea of an office in Auckland and saved substantial city rent in the process. Now, rather than having an empty and sterile show home in a remote location, they have their own comfortable home, that's already drawn some attention. And their home is the base of their new venture - a prefabricated sustainable and architecturally designed house called modhouse.
---
Sat, 28 September 2019
Why aren't architects learning this?
In 2001, Lindsay Schack and Lindsey Love both started a Masters of Architecture at Montana State University. A decade on, the two friends created Love Schack Architecture together, from their respective home towns in Montana and Idaho. Love Schack Architecture combines Lindsey Love's experience and passion for natural materials, with Lindsay Schack's Certification as a Passive House Institute-US, Consultant.
---
Sat, 14 September 2019
201: From what went wrong, to designing it right
After working as a Building Surveyor for over thirteen years, Nick Gaites is now turning his attention to the positive work of designing really awesome buildings that shouldn't need to the services a surveyor down the track. Nick has become a Certified Passive House Designer.
---
Sun, 8 September 2019
200: How Accurate is AccuRate?
In 2003, thermal performance requirements for residential buildings were added to the Building Code of Australia for the first time. The initial performance requirement was 4 Stars in the National House Energy Rating Scheme (NatHERS) as simulated using the benchmark software AccuRate. In 2006, the requirement rose to 5 Stars, then to 10 Stars in 2010. This all sounds great. The increasing rating requirements of NatHERS provides a measurable and predictable target for improving the energy efficiency of Australian homes. But the building products industry wanted to know, how accurate is AccuRate?
---
Sat, 31 August 2019
199: What does a Building Enclosure Engineer do?
There's a new building enclosure consultancy in town. They're called Oculus and they've got a a great philosophy as well as a lot of international experience. I caught up with James Raimondo, a Senior Building Enclosure Engineer at Oculus to learn a bit more about the engineering and science of what they do.
---
Sun, 21 July 2019
198 The International Passive House Association
Within the Passive House Institute in Darmstadt, there is a small group of people dedicated to coordinating the efforts of over 20 Passive House Affiliate organisations around the world. This group is the the International Passive House Association (iPHA). Giorgia Tzar is the head of International Communications for iPHA and I caught up with her following the Passive House Conference in Heidelberg this year.
---
Sat, 6 July 2019
196: Why are Structural Insulated Panels (SIPs) are good idea for building?
SIPs - Structural Insulated Panels are pretty much what they say they are. Why aren't more designers and builders using this way of building energy efficient, warm, dry houses?
---
Sat, 22 June 2019
195: Passive House is a Meaningful Applied Physics
Jessica Grove-Smith has a Masters degree in Physics from the University of Sussex, UK. She's studied in Australia and Spain, done volunteer work in Africa and India and completed an internship in Denmark. She wanted to do something meaningful with her knowledge of physics, and in 2008 Jessica began another internship, this time at the Passive House Institute in Darmstadt. Now she's a Senior Scientist and Director at the Institute.
---
Mon, 17 June 2019
194: Ecokit - A Prefabricated Energy Efficient Home
Camilla Novotna always knew she wanted to build her own timber house. It was just a question of when and where. Despite not having a formal architecture or building background, Camilla has now done a lot more than design her future home. Along with her sister Pavla, she has created Ecokit - a prefabricated building system offering energy homes that can be put together by anyone.
---
Sat, 8 June 2019
193: Can High Quality Building Products be Made in China?
International attention on Gaobeidian is set to increase up to October 2019 when Windoor City along with Passive House Institute China will host the 23rd International Passive House Conference. I spoke to the Head of International Cooperation at Windoor City, Peter Lee recently. Among other topics, I asked Peter about the perception we have in the West of 'Made in China'. My discussion with Peter confirms my belief that Passive House coming to Asia is going to make an impact in Australia and New Zealand.
---
Sat, 1 June 2019
192: How to reach over 200,000 people with a message about Passive House
After he won the Inaugural Passive House Slam during the Heidelberg Passive House Conference in March this year, I sat down with Marius Şoflete to talk about how he's inspiring people to build better places to live. Marius has a contagious enthusiasm which he's using to make Passive House fun!
---
Sat, 18 May 2019
191: New Zealand's First Passive House Cohousing Project
The first New Zealand Passive House was completed in 2012. Since then, about 20 more individual private houses have been Certified using the internationally recognised standard. Now, New Zealand is about to get its first Certified Passive House Cohousing project and Tim Ross has been involved almost right from the start.
---
Sat, 11 May 2019
190: Lessons from Thirty Years of Airtightness Testing
Paul Jennings needed a project for his dissertation on fuel poverty in the UK when he came across some charity work funded by the then 'Greater London Council'. This was back in the 1980s. Not many people had heard of Blower Doors, but a team from the suppliers in Canada were willing to travel to the UK to train people on how Blower Doors could be used to help diagnose energy and health issues in buildings. At the 2019 Passive House Conference in Heidelberg, Paul shared some of his learning from over 30 years of airtightness testing. https://homestylegreen.com/190
---
Fri, 3 May 2019
189: How to Build a Tiny House
Everett Norris always wanted to build his own house. As a boy, he also assumed that he'd own his own house. This sounds simple enough, but the reality is that home ownership is becoming more like Everett's naive childhood dream for many New Zealanders. Everett now helps people achieve the dream of home ownership by teaching them how to build their own Tiny House.
---
Sat, 27 April 2019
188: How to have a comfortable home that's also affordable
Paul and Pascale have created Park Homes for people like themselves. They were first time home buyers in the New Zealand market and they wanted something that would be worthy of living in for several years. Houses built to the current code are not up to this standard and so they created the change they'd like to see.
---
Sat, 13 April 2019
186 Where to get beautiful high performance windows
Where do you go to get beautiful, high performance doors and windows, made in New Zealand?
---
Wed, 6 March 2019
185: What is Airtightness and Why do we Need it?
The term 'airtight' conjures up fears of hermetically sealed boxes. In this episode, I discuss what exactly airtightness is, and why we need it.
---
Fri, 15 February 2019
184: Rocket Scientist to Building Scientist
Jason Quinn used to be a NASA rocket scientist. Now he's New Zealand's one and only Passive House Certifier. He's just published a book summarising the first 24 Certified Passive Houses in New Zealand.
http://warmhealthyhomes.co.nz
---
Sat, 19 January 2019
183: Living in Your Own Passive House
In 2012 Ben Adam-Smith founded House Planning Help to collect and share all the information he started to learn on the way to designing and building his own home. His mission is to encourage people towards the "...houses we should be building in the 21st Century."
Six years on, Ben and his family are enjoying their very own Passive House.
---
Sat, 22 December 2018
182 How to Make High Peformance Homes Mainstream
Sam Rogers thinks we've reached a tipping point where more people are seeking high performance homes and are willing to invest a little extra for a much better result. Sam and his team at Land Homes are on a mission to make high performance homes mainstream.
---
Sat, 15 December 2018
181: Tomorrow's House Today
Felicity and Marc Bernstein met at architecture school in Germany and have been working together since. During the last twenty years they've worked in Germany, Arabia and Australia. They now want to use modular design to bring high performance, zero-carbon homes to the masses. Felicity and Marc have recently launched Hütt - Tomorrow's House Today to achieve their vision. Through the crowd equity funding platform Birchal, they're inviting everyone to join the movement.
---
Sat, 24 November 2018
179 Why airtightness is so important for indoor air quality
Terry Brennan literally wrote the book on managing moisture for improved indoor air quality. He is a lead author of a landmark 2013 Environmental Protection Agency book titled "Moisture Control for Building Design, Construction and Maintenance" which has since become a standard reference document in the industry in the US.
In November 2018, Terry visited Australia as a keynote speaker for The Building Designers Association of Australia (BDAA) and Australian Institute of Refrigeration, Air Conditioning and Heating (AIRAH). We took this opportunity to bring Terry to New Zealand for a short visit and workshop at the pro clima HUB, where I caught up with him for a chat about building science, mould and how to build better.
---
Sun, 18 November 2018
178 Cutting Edge Craftsmanship
Tedd Benson refers to stick framing as pretty basic shelter. It went up almost overnight, but the legacy continues as a 'worse form of building that then become a standard'. Today, Tedd runs Bensonwood, Unity Homes and Tektonik. He is a passionate about combing the skills and values of traditional craftsmanship with cutting edge technology to make better places to live.
---
Mon, 5 November 2018
177: A PR Boost for Sustainable Homes
In Episode 145 I spoke with Dennis Dowling of DCD Construction. On the episode, I talk with Annabelle Numaguchi who has a PR and marketing background. Why has Annabelle recently become a Homestar Assessor and what is her vision for DCC Construction? Find out in this episode of Home Style Green. http://homestylegreen.com/177
---
Mon, 29 October 2018
176: The Enemy of Ugly
Bert Sarkinnen has been building homes since he was 16, firstly alongside his Father who was also his teacher and mentor. Along the way Bert fell in love with the craft and beauty of timber framed buildings, so much so that he created Arrow Time Framing to specialise in this type of construction. As creators of beautiful, high quality buildings, Arrow Timber Framing is now 'the enemy of ugly'. In this conversation, we discuss the importance and value of a craft, how being encouraged to makes mistakes helped Bert to learn, and the challenges of building a business.
---
Mon, 22 October 2018
175: The Headwaters Living Building Challenge
The Headwaters in Glenorchy, just 45 minutes drive from Queenstown is a magical place and now home to another Living Building Challenge project.
I caught up with lead consultant, Tricia Love recently to discuss how she got involved and what the Headwaters is all about.
The Headwaters doesn't aim to re-invent the wheel. It is however a leading example of how we can learn from what's being done overseas and contribute our own expertise towards a positive effort of creating better places to live, work and play.
---
Sun, 14 October 2018
174: Design Housing, not just Houses
Karen Manson likes thinking about and designing housing, not just houses. With over 15 years of international experience, Karen now has her own practice in Christchurch. She focuses on high performance houses, including Passive House. I had the opportunity to chat with Karen at the pro clima HUB about her journey. In this episode we discuss the urban design, keeping it simple and what can be learnt from the process of designing standard, code compliant buildings.
---
Sat, 6 October 2018
173: Using WUFI to Keep Building Dry and Healthy
Nearly all building elements (roofs, walls, floors, window and door joints etc.) will leak at some point. Problems only occur when moisture gets in, and stays in. If moisture is allowed to accumulate for extended periods, then mould grows, timber rots and metal corrodes. Ultimately, people get sick and our buildings start to fail. This can be incredibly disruptive, stressful and expensive!
WUFI® was created to allow designers to check their designs before those designs become real buildings. By running scenarios with different combinations of products we can fail in the virtual world until we optimise the design. Then we can build with confidence that our real structure will stay dry, healthy and strong for decades.
---
Sat, 29 September 2018
172: How to make eco, affordable - the Lotus Eco Village
How do you make eco, affordable?
As project manager for the proposed Lotus Eco Village in Paraparaumu near Wellington, Simon Wallace has some good ideas.
In 1971, Eric Doornekamp led a group of yoga enthusiasts to establish the Lotus Yoga Centre and Retreat in Aro Street, Wellington. Almost half a century on, the Lotus Yoga Centre Charitable Trust is branching out and developing an Eco-Village.
The Lotus Eco Village will be built in on a 3 hectare site purchased by the Trust back in 1985. Project Manager Simon Wallace shared with me how he plans to create affordable, healthy houses alongside a yoga and community centre in a great location.
---
Sat, 22 September 2018
171: The Baillie Eco-Home
Russell Baillie describes the Baillie Eco-Home as a modern, contemporary house that's green under the skin. It's a two storey, three bedroom home in Mt Eden completed in 2016. The house is a showcase of efficiency, sustainability and universal design.
http://homestylegreen.com/171
---
Sun, 22 October 2017
168: When is it ever good to have a hole in your roof?
This week I'm discussing skylights and roof windows. They're great for both light and ventilation, but what should you look out for?
---
Sat, 9 July 2016
166 How to Create a Good Thermal Envelope
The building code is the worst house you're legally allowed to build, yet it's often treated as the target.
In this episode, I walk through some building envelope basics and discuss where I think you should invest the most to improve the health and comfort of your new home.
http://homestylegreen.com/166
---
Sat, 2 July 2016
165: Where are NZ Builders making great homes?
I usually interview designers and builders about what's going on overseas, with a focus on what the New Zealand industry could learn. In this episode, I speak with Damon Gray and Andrew Chapman of NZ Builders. They've turned this idea on it's head and have taken some NZ techniques to British Columbia, with some stunning results.
http://nzbuilders.com
http://homestylegreen.com/165
---
Fri, 10 June 2016
163: What are the layers you need in your wall?
Walls (and roofs and floors) of buildings have become complicated. As we've increased the level of insulation, we've created some new problems, like condensation. This has been aggravated by the addition of layers into the wall that reduce air movement. So how do you create a wall that keeps you warm but will also stay dry? I spoke to Jon Davies from Pro Clima to get some facts about airtightness.
http://proclima.com
http://proclima.co.nz
http://proclima.com.au
http://homestylegreen.com/163
---
Thu, 2 June 2016
162: How to retrofit heat recovery and ventilation
When I first saw the LUNOS is didn't really believe it was a true heat recovery ventilation system, so I sought out some answers.
Wayne Delport is Sales and Technical Manager at The Heating Company International.
http://bit.ly/HSGLunos
http://homestylegreen.com/162
---
Fri, 27 May 2016
161: A Fitbit for your Home
Imagine having a Fitbit for your home and being able to see, in real time, how it's performing. You could also be notified of any hazards like high levels of CO2 and VOCs as they occur - before you start to get a headache or start having respiratory problems.
This week I speak with Dustin Jefferson Onghanseng, a cofounder of uHoo, an exciting new product that could be the Fitbit for your home.
http://uhooair.com/
http://homestylegreen.com/161
---
Sat, 21 May 2016
160: How do you know if your home is unhealthy?
A first step in making a home healthier is to understand and quantify what might be making it unhealthy. Through her website, Caroline Blazovsky has made it very easy for homeowners to test indoor air quality and test for mould.
http://www.healthyhomeexpert.com/
http://homestylegreen.com/160
---