Sat, 19 December 2020
241: What's so Good about Wood?
John Stulen is Co-Founder and Communications Director for Innovatek. He's passionate about wood and through the WoodWorks brand, John helps the construction industry by promoting the many benefits of engineered wood.
---
Sun, 13 December 2020
240: Unearthing Passive House
Dean Hoggart found geology fascinating. He followed this passion hoping for a career in geothermal energy. After becoming a successful geotechnical engineer and drilling holes looking for oil and minerals, Dean realised he wasn't really doing what he'd like to be doing. So he took a leap and changed career. Today, he's a Certified Passive House Designer and is very happy to be applying science to the design of energy efficient homes.
---
Sun, 6 December 2020
239: How to Build the Right Home
Jennifer Crawford first appeared on Home Style Green when Our New Home Coach was just getting started. Six years on, she's back to discuss her journey and why she still believes strongly in helping people build the right home.
---
Sat, 28 November 2020
238: Building Passive Houses
WD Homes (Wayne Dyet Homes Ltd) is a family run residential construction company, established in January 2005, based in Dunedin.
'Certified Passive House' or 'Passivhaus' Construction has quickly become a speciality for WD Homes.
In this episode, we discuss how Wayne got started as a builder and what he enjoys about building Passive Houses.
---
Mon, 23 November 2020
Smart Exteriors
Steven Glaze is an expert in the exterior home remodelling industry and specialises in siding and gutter protection systems. He started in the business working as an assistant at his father's roofing company at the age of 16 and was estimating projects and managing crews by the time he was 18 years old. Today, Steve serves as Vice President of Sales for Smart Exteriors LLC, an award-winning home improvement company serving the greater Kansas City metro area. Steven works tirelessly to find the best exterior products and to educate homeowners on the best options for their goals and budgets. In fact, he recently wrote a homeowner's guide for siding that is now available on Amazon.
---
Sat, 14 November 2020
236: Sustainability Leadership
Sheryl Owen's purpose is to create a sustainable environment where everyone can thrive. The environment, says Sheryl, should not be a commodity available for a select few. In order for us to elevate, we must be aware of our impact on the environment and marginalised communities. In her day job and her numerous volunteer roles, Sheryl Owen helps companies find opportunities to link their environmental goals with how they can support their communities.
---
Sat, 7 November 2020
235: From Gaudi to Passive House
While on tour as a young US Marine, Josh Oqueli was stationed in Spain for 6 months. In Barcelona, he walked into the Basílica de la Sagrada Família. At the time, he didn't know about the architect and master builder, Antoni Gaudi, but the experience of entering this enchanted space inspired Josh to find out. Gaudi's skill as both a designer and a builder resonated with Josh and led him on the path to creating the Bonsai Design + Build.
---
Sun, 1 November 2020
The Business of Sustainable Building
Robert Sroufe, PhD. is a Professor of Sustainability, Operations and Supply Chain Management at Duquesne University. His practical experience comes from sustainable supply chain management. He was 'co-opted' into the green building movement by experts that he invited him to present to their students about the business opportunities associated with building green.
---
Sun, 25 October 2020
233: Using the gifts of the site to create a healthy, resilient home
Living Shelter Architects is a design firm led by Terry Phelan in the Northwest of Washington State. The focus of their work is to provide healthy, resilient homes by combining natural materials with the "gifts of the site".
---
Sat, 17 October 2020
Sustainable Opportunties
VCA Green provides green building consulting and commissioning. Their mission is to help clients achieve sustainability goals and long-term cost savings. I spoke with Principal Moe Fakih about where buildings sometimes go wrong and how companies like VCA Green can help with energy modelling, building rating, and commissioning.
---
Sat, 10 October 2020
231 Designing Light and Treading Lightly
How is overlighting of our internal environments, and overshading our cities, affecting our wellbeing? Antony DiMase is a thoughtful Architect based in Melbourne, Australia. We discuss the role that architecture can play in making better places for people and the planet.
---
Sat, 3 October 2020
230 How to Make Houses Perform
Enveloped provide all the products and systems you need to take an ordinary house and make it a high-performance home. Murray and his team help with the selection and installation of airtightness systems, insulation, ventilation, high-performance windows, heating and water heating systems for homes throughout New Zealand. "Remember, the Building Code is the minimum level of performance you are legally allowed to build to."
---
Sat, 26 September 2020
229: Be Significant
Through his work, Simon Croker is showing that designers can make a difference and be significant wherever they are. From big city firms to small country town practices, everyone can play an important role in creating sustainable, healthy buildings for the benefit of everyone.
---
Sat, 12 September 2020
228 The Shape of Sustainable Architecture
Architects shape the places where they work. Good Architects are themselves also shaped by their surrounding environment.
Living and working in Wanaka, Beth Chaney is very aware of being part of a place that most people only get to visit on holiday. This acknowledgment provides motivation for looking after the environment through her work as an architect.
In this episode, we discuss how Chaney and Norman incorporate environmental ratings along with PHPP energy modelling from Passive House to create sustainable architecture.
---
Sat, 5 September 2020
227: CarbonLite
CarbonLite is a producer of prefabricated Passive House and high-performance buildings, based in Victoria Australia.
Founder Burkhard Hansen explains some of the problems with typical Australian building practices, and how CarbonLite is using building science and experience to produce fit for purpose homes.
---
Sat, 29 August 2020
226 Idealings Architecture
Idealings Architecture is based in Fremantle, Western Australia and serves Perth and the Southwest of the state. Run by Timo and Najwa Bleeker, the aim of Idealings is to help future homeowners and organisations to create healthy, comfortable, energy-efficient and sustainable buildings.
---
Sun, 23 August 2020
Abodo Wood
After studying Japanese and international business, Daniel Gudsell's plan was to go to Japan and sell New Zealand produced milk, but he ended up selling wood in the South Pacific, an enterprise that led to the creation of Abode Wood.
---
Sat, 15 August 2020
224 Why are we so far behind?
Murray Robertson took a liking to technical drawing during intermediate school, which he carried on through college. After considering both industrial design and landscape design, he eventually settled on Architecture. He 'did his time' at a few practices and then found himself at McLaren Associates in Edinburgh where he was introduced to the environmental rating processes of BREEAM. Back in New Zealand, Murray spent over a decade at Stephenson & Turner before starting his own practice, Robertson Architecture Design in 2016.
---
Sun, 9 August 2020
223 Sustainable Architecture
In 2019 Anne Salmond was made a Distinguished Fellow of the New Zealand Institute of Architects, a high honour available to a maximum of only ten people at any one time. As a trailblazer throughout her career, Anne is a worthy recipient of this title. At one time Anne was told that she was running the largest architecture firm in the country that was directed by women. In our interview, Anne and I discuss her growing interest in sustainable architecture, passive solar and Passive House, Living Building Challenge and some of the exciting projects she's currently working on.
---
Sat, 1 August 2020
222 Third Little Pig
Simon Wansbrough is the Founder and Director of Third Little Pig, a custom home builder based in Christchurch. We discuss how Simon got into building in the first place, what building better homes means to him, and how he's been able to become more selective about the projects he takes on.
---
Sun, 26 July 2020
221 Polystudio
Daniel Wolkenberg is a student of the 90s. He took the fairly typical route out of Architecture School and worked for a couple of different studios as a graduate. During this time Daniel worked on some fairly major projects such as Federation Square in Melbourne. He gained experience in master planning and got exposure to people and practices. With a desire to own more of the complete process and to fully connect with clients, Daniel opened his own practice, Poly Studio at the beginning of 2012.
---
Sun, 5 July 2020
220 Oil Rigs to Passive Houses
Before Reece Beresford trained as a builder and started his own company, he did some time working on oil rigs. Now he's aspiring to build Certified Passive House for clients in Perth, Western Australia.
---
Sat, 27 June 2020
219 Blue Sky Windows
Viktoria Nikitina is Managing Director of Blue Sky Windows, a manufacturer of high quality, high performance uPVC windows based in Melbourne, Victoria.
With so many locally manufactured options now available, there are plenty of reasons why you should consider windows and doors like these for your next project.
---
Thu, 25 June 2020
218 A Sustainable ICF ECO-Block Home
Simon Cator of Pro Clima New Zealand recently caught up with Kirstie Brown at a sustainable house that Kirstie has built using ECO-Block Insulation Concrete Forms (ICF) in Tauranga.
Simon finds out about the advantages of using ECO-Blocks and how an airtight construction is already contributing to great performance.
This episode and accompanying article originally appeared on Eboss, https://www.eboss.co.nz/ebossnow/pro-clima-intelligent-air-barrier-tauranga-sustainable-home
---
Sun, 14 June 2020
217 High Performance Lessons from Luxury Homes
Browsing the photo gallery on Jeff Bogard's R.E.A Homes website, 'sustainability' is not likely the first word that comes to mind. Can large, luxury houses actually be sustainable? This is one of the topics I discussed with Jeff who's been providing high performance homes for discerning clients in Saint Louis for over fourteen years.
---
Wed, 10 June 2020
216 Why don't we know about thermal bridges down here?
I'm always interested in the perceptions of architects and builders who have been trained or have experienced living in Europe and then come to the Southern Hemisphere. Their reaction to typical houses in New Zealand and Australia usually involves a level of disbelief. A common sentiment is that they've never been colder, despite this being a milder climate.
---
Sat, 30 May 2020
215 Building Biology
Joachim Herrmann developed an interest in building biology while working as a teacher. As a trained biologist, he describes the science of life as "endlessly fascinating". We discuss the 25 principles of Building Biology and how they contribute to creating healthy places to live.
---
Sat, 23 May 2020
214 Energy Efficient Homes
Robert Whitehouse wants to build houses that work the way they should, and he's thinking about how to make them affordable for everyone.
---
Sat, 16 May 2020
What's so good about uPVC windows and doors?
The uPVC window market is relatively small in Australia right now, but it's growing fast. I caught up with Kathrin Sender, Managing Director at Integra Windows recently to find out what's so good about uPVC windows and doors.
---
Sun, 10 May 2020
212: Don't Build a Garden Shed!
Ian Chamberlain learnt his craft as a cabinet maker and joiner in the UK. Nearly 40 years on, he's now crafting beautiful and high performing homes in Taupo, New Zealand.
What are the most important things to ensure you get the comfortable, energy-efficient home you deserve and can afford?
More at https://homestylegreen.com/212
Brought to you by Endurobuilders and LABDesign.
Music attribution: Carefree by Kevin MacLeod Link: https://incompetech.filmmusic.io/song/3476-carefree License: http://creativecommons.org/licenses/by/4.0/
---
Sun, 3 May 2020

Guy Shaw, Energy Architecture
Guy Shaw of Energy Architecture originally trained in Wellington, New Zealand. But it was his experience working as an Architect in the UK that introduced him to more sustainable design and lead him to become a Certified Passive House Designer.
Upon returning to New Zealand in 2013 he set up his own practice, Energy Architecture. Since then he has focussed on Passive House design and has become an expert on working with Structural Insulated Panels (SIPs).
Theory and Practice
During his initial training, Guy thought New Zealand was pretty sustainable. He learnt a bit of building science, as required by most architects at the time, but it wasn't what we'd probably call building science today.
During his time working in England, Guy was more or less immersed in BREEAM and was then introduced to Passive House. This experience put New Zealand practice at the time, into perspective.
Designing and Modelling
Guy credits having some good mentors in the UK, as well as having some good projects to work on, for his knowledge of Passive House modelling. He was able to learn to model using the Passive House Planning Package (PHPP) while on the job.
He explains that designing and modelling go hand-in-hand. It's a smoother process to design with some key concepts right from the start, rather than being given a design and asked to model it.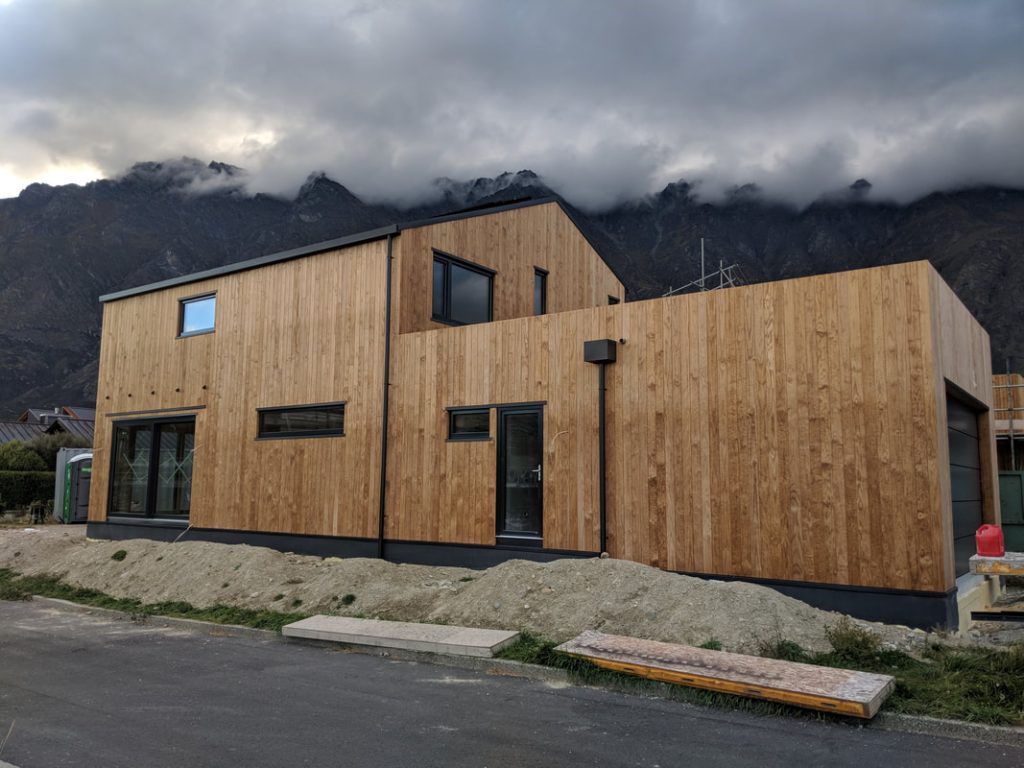 "Once you've been doing Passive House projects for a while, it becomes intuitive," says Guy, "... you understand the implications of various design decisions...". He still checks all his designs in PHPP, but Guy says that nowadays, he's really just double-checking the performance assumptions that he's made along the way.
[Tweet ""Once you've been doing Passive House projects for a while, it becomes intuitive." Guy Shaw, @EnergyArchNZ"]
Voice your Values
I asked Guy about how other designers can attract clients who want to go down the Passive House route, or something similar. With Energy Architecture, he's been very clear from the start about what he stands for. And he wasn't afraid to voice these values. If someone is looking for cheap and 'just-to-code', they're probably not going to seek out a practice like Energy Architecture.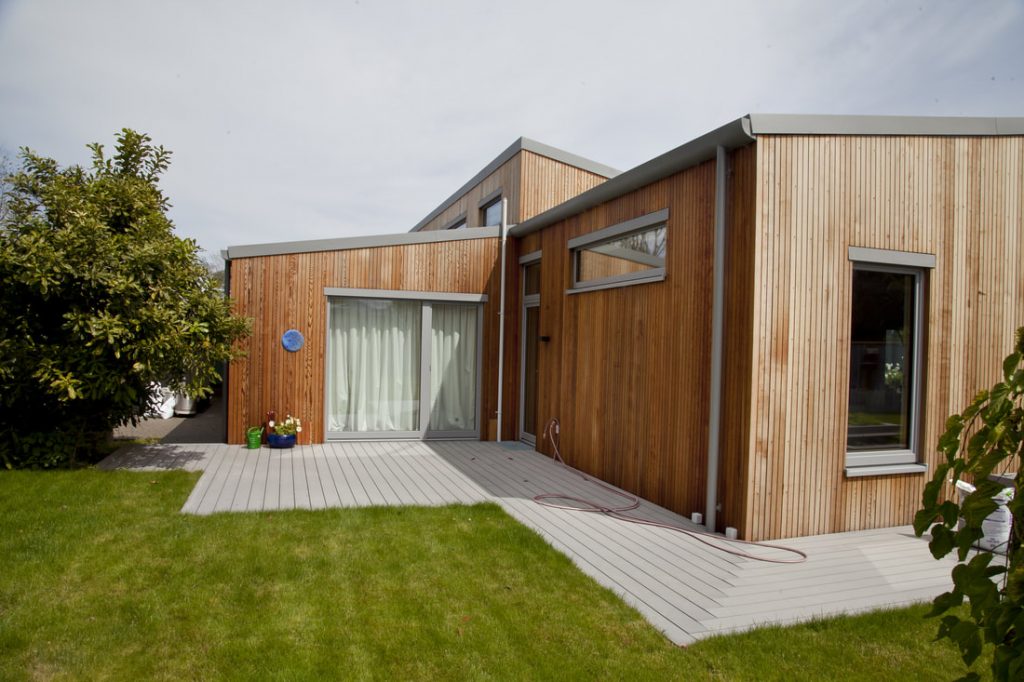 Guy has received positive feedback from being very clear about what he stands for. And it seems his clients tend to self-select. He's only had to turn away one job to date.
While he does acknowledge that it may be more challenging for an existing practice to change tack, Guy says that every client relationship starts by explaining what your values are.
Get Inspired
Energy Architecture is based in Wellington and specialises in Passive House design with leading expertise in designing for SIP construction. Check out Guy's stunning work on their website.
Category:
general
-- posted at: 5:20pm NZDT
---
Sat, 2 May 2020
211: Energy Architecture
Energy Architecture is based in Wellington and specialises in Passive House design with leading expertise in designing for SIP construction. Find out more, and contact Guy Shaw via their website.
---
Mon, 20 April 2020
210: How to Build a Stunning Sustainable Home
Enduro Builders is quickly becoming one of the leading builders of high performance and sustainable homes in Australia. I met up with Jackson while he was nearing completion of another stunning home in the Adelaide Hills during a trip in late 2019.
In this chat, we discussed how Jackson got into building in the first place and how Enduro Builders is helping to lead an important change in the Australian residential building market.
---
Sun, 12 April 2020
209: How to Live Well with Livewel Construction
Ben Ingledew has a background in teaching, but following the Canterbury Earthquakes in 2010 and 2011, he took a new path which eventually lead to Livewel Construction.
Livewel Construction focusses on energy-efficient, comfortable homes and renovations. Ben in Certified Passive House Tradesperson and a member of the Superhome Movement.
---
Sat, 4 April 2020
208: OMEGA Windows and Doors
Aluminium is stable, completely recyclable and relatively abundant, but it's also a great conductor of heat. It's the dominant choice of material for window and door frames in New Zealand, accounting for 90% of the market. But how can you make it a more sustainable choice? OMEGA Windows and Doors offers some good options.
Dyann Stewart learnt computer-aided design (CAD) while working as a receptionist for New Zealand sailor Digby Taylor. With this valuable skill, Dyann soon found herself working as a junior designer for Nulook. From Nulook, she worked briefly with Fletcher Aluminium as a Technical Advisor, and then on to Fairview where she eventually become Group Technical Manager.
She is now the Business Development Manager at OMEGA Windows and Doors where she's already helped the company achieve the significant accreditation of becoming the first Red List Free aluminium joinery supplier in New Zealand.
---
Sat, 28 March 2020
207: How Woman-Centric Home Design leads to Better Outcomes
Design Basics has as unique point of difference. They value and promote the input of women in the design process. I discuss with Executive Vice President Natalie Wendling, and Vice President of Business Development, Paul Foresman; the concept of 'Women-Centric Home Design' and how it can benefit everyone.
---
Sun, 22 March 2020
206: How to Save Time and Money on Green Certification
Green certification of building projects faces multiple challenges; from sourcing appropriate products, documenting and verifying materials, through to minimising, sorting and recording construction waste. Compiling all this information in a form that's useful for the certifying agency can be yet another big challenge. Through Green Badger, Tommy Linstroth's goals is to make sustainability in the built environment as easy as possible.
Green Badger is a cloud-based software platform that helps builders and contractors streamline and automate green building compliance. Simplifying these compliance processes allows builders and contractors to focus on building their building properly instead of chasing paperwork.
---
Sun, 15 March 2020
205: From Zero Energy to Revolve Energy
Jo Woods and Shay Brazier have been saving money on power since they moved into their Zero Energy House. At the same time, their home has been drier, healthier and warmer in winter than most New Zealand houses.
Now Shay is continuing to help others achieve similar savings and benefits by looking into the feasibility of solar and energy efficiency technologies for building products via his new company Revolve Energy.
---
Sat, 18 January 2020
204: Making Hardwood Flooring Easy
John Dupra is changing the way people select and buy hardwood flooring. His story about the creation of Revel Woods offers some valuable ideas about how others might bring the building industry into the age of e-commerce.
Rather than a product-based sourcing method, Revel Woods now applies a project-based method to come up with viable solutions for their customers to choose from. Revel Woods asks customers about their project first. The customer is then only given options that will match their location, intended use, and style preference.
John's story is a great example of putting the customer and the project first. Revel Woods have developed a user-friendly website and an algorithm-driven selection process to make a technical decision, accessible to anyone. How could the lessons of Revel Woods and Trunk Club before them, be applied further across the building industry?
What does the future look like for your product or service, and why don't you be the one to create that future?
---